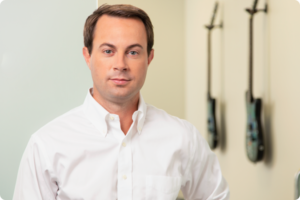 David Crenshaw, CPA, JD
Chief Financial Officer & Corporate Secretary
David Crenshaw serves as the Chief Financial Officer and Corporate Secretary of Confirmation. A mergers and acquisitions attorney and certified public accountant by training, David oversees the accounting, finance, and legal divisions of the company.
Prior to joining Confirmation, David practiced corporate law at Nashville-based Sherrard Roe Voigt & Harbison, PLC, specializing in complex acquisitions, equity and debt financings, securities law, and corporate governance matters. He regularly represented venture capital and private equity clients in various business transactions, investment strategies, joint ventures, and other strategic alternatives.
Before practicing law, David served as a certified public accountant for Ernst & Young, LLP performing audits and transaction advisory services for fortune 500 clients with headquarters in and around middle-Tennessee.
David has a Juris Doctorate from Vanderbilt University and a Masters of Accounting from the University of Tennessee.